By
cupcakeSerenity
on Monday, February 25th, 2013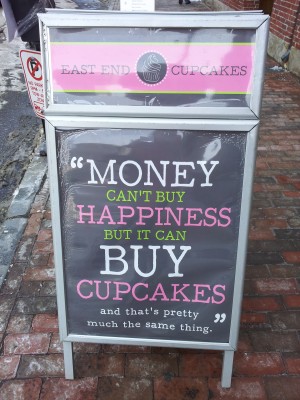 I recently paid my first visit to East End Cupcakes, which is, I believe, the only cupcakery in Portland, Maine. (If there's another one, let me know, because I couldn't find it!)
East End Cupcakes is ideally located right in the Old Port. Somehow, eating a cupcake while walking down cobblestone streets just feels right. On the day I visited, they had an offering of classic hits, including chocolate, vanilla, and red velvet. I chose the "chocolate salted caramel," a chocolate cupcake topped with lightly flavored caramel frosting and sprinkled with sea salt.
We cupcake reviewers have noticed a trend toward creamier frostings, and away from sweeter frostings. East End Cupcakes seems to be on that bandwagon. Their frosting was airy and smooth. (Granted, had I tried the red velvet, I may have found a more substantial frosting there).
The store itself is adorable and seemed like a cool place to hang out. There was more seating than I've seen in a lot of similar sized bakeries.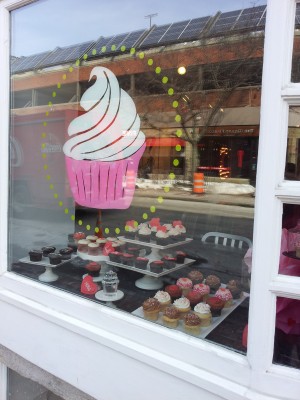 Also, if you're planning to plan a Portland area party soon, you might like to know that East End offers cupcake decorating parties! This strikes me as a fine idea. Here's what they have to say on it:
Perfect for a unique birthday celebration for a 5 year old or a 50 year old! At your cupcake decorating party an East End representative will come to the event location with baked cupcakes and frosting in a variety of colors and flavors. Your party guests will get to create their own cupcakes using piping bags and edible decorations. We will provide aprons, guidance and clean up. At the end of the event, your guests will be able to take home their creations in one of East End's signature pink boxes!