By
hungry runner
on May 26th, 2011 . Filed under:
Bakeries
,
Cupcake Ideas
,
Reviews
.
There's nothing I love more then trying a great, new-to-me cupcake shop.  The cupcake shop that I tried this past weekend is a little different since it is not an actual shop.  Instead it is a vintage 1978, 31 foot Airstream Sovereign cupcake mobile, named Sugar.  Daisy Cakes sets up shop, or rather Sugar, on Saturdays from 9am-12pm at the intersections of Foster and Geer Streets in downtown Durham, North Carolina.  Their Saturday location is about two blocks north of Durham's farmer's market location.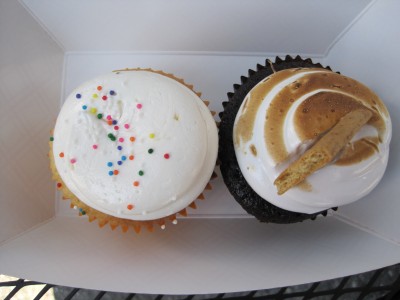 I have been wanting to try Daisy Cakes for some time now and was very pleased when I finally did.  Everything about the visit was great, especially the super friendly staff .  After having been to several cupcake shops where I have been disappointed by the unpleasant workers Daisy Cakes was an enjoyable visit. This husband and wife duo definitely know what their way around the kitchen!  Both are trained in the culinary arts as skilled chefs and more importantly for cupcake lovers, they are talented pastry chefs!  
The menu consists of several regular flavors and a few specials, all $3.00 each.  We decided to order two cupcakes and the Nutella Pop't Arts and we loved everything we had!  The s'mores cupcake was delicious and consisted of a moist chocolate cake with a smooth toasted meringue frosting.  To complete the cupcake a graham cracker was placed on top.  The vanilla cupcake was just as good with it's madagascar vanilla bean cake and a very light vanilla buttercream.  Other options that day included chocolate fix, red velvet, chocolate top, black and white, carrot cake, and vegan vanilla.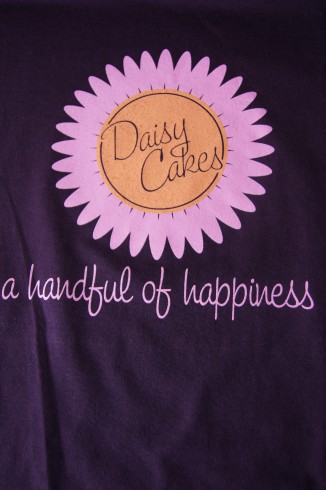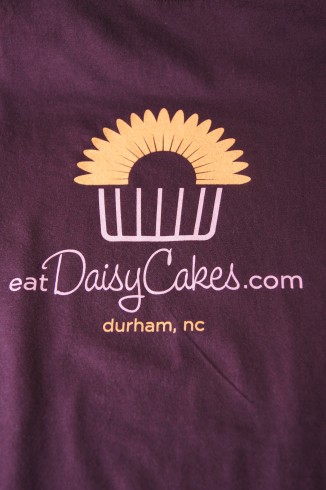 I also purchased their cupcake cupcake shirt for only $15.00.  The front and back of the shirt that I purchased are shown at left, they had other styles and colors available.  I thought it was a reasonable price since some cupcake shops I have been to charge $25 or more for their T-shirts.  If you're interested in trying Daisy Cakes, which I strongly suggest, sign up for their news letter to receive a free cupcake! Don't think you can make it to their Saturday location? They take special orders at least 48 hours in advance.  Also you can rent Sugar, the cupcake mobile for your next event!