By
cupcakeSerenity
on December 31st, 2011 . Filed under:
Kitchen
,
Reviews
.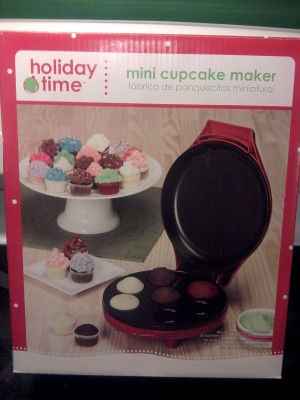 My daughter got me this mini cupcake maker for Christmas. It was my first contraption of the sort. A tiny thing, it "bakes" seven mini cupcakes at a time.
It's awesome in that it only takes a few minutes to warm up. At first, I was a little annoyed that, cooking 7 minis at a time, it would take me all night to get through a batch of batter, but then I read the manual–turns out, the mini cupcake maker came with a whole bunch of neat little recipes that make a perfect size batch of batter for 7 mini cupcakes. So, this cupcake maker would be ideal for a person or small family who just wanted to make a quick treat. As for me, I plugged my way through the whole first batch, and it took a while. Next time, I will be sure to start small!
In the end, it was a great gift to get from my junior baker, and I was grateful for an easy cleanup. And I'm sure we'll have lots of fun with it in the future. (Oh, and you might want to toss the first batch–they tasted like freshly cooked metal.)