By
cupcakeSerenity
on February 1st, 2012 . Filed under:
Artwork
,
Bakeries
,
Reviews
.
I just made my first visit to Northern Michigan's first and only cupcakery: Simply Cupcakes of Traverse City. What a lovely little spot in downtown Traverse!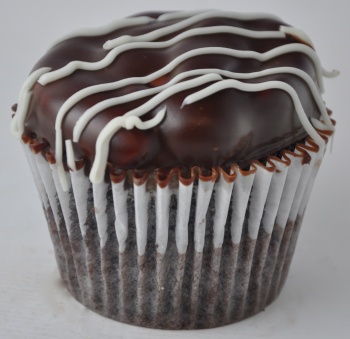 An impressively wide selection of offerings included Banana Cream, Peanut Butter Cup, Hint of Mint, and Lemon Love, and while we sampled many, the winner was clearly the (pictured) Bumpy Cupcake: A rich dark chocolate cake stuffed with buttercream (which tasted more like mousse), and topped with homemade chocolate ganache and more buttercream, then dipped in chocolate ganache and finished with a few sprinkles. Holy wow! That cupcake was a meal.
I was impressed with how substantial the cupcakes were. They weren't dense, but there was certainly something to them! And the frostings were non-traditional and left me wondering about their secret recipe.
The cupcakery itself is also a tantalizing hangout, with a "cupcake room" one can book for special events. Cupcake art hung on the wall, including the beauty below, which could be yours for $3000!
If you're in the area, Simply Cupcakes is a must-stop for the cupcake-lover!