By
hungry runner
on March 15th, 2011 . Filed under:
Cupcake Ideas
,
Decorating
,
Holidays
.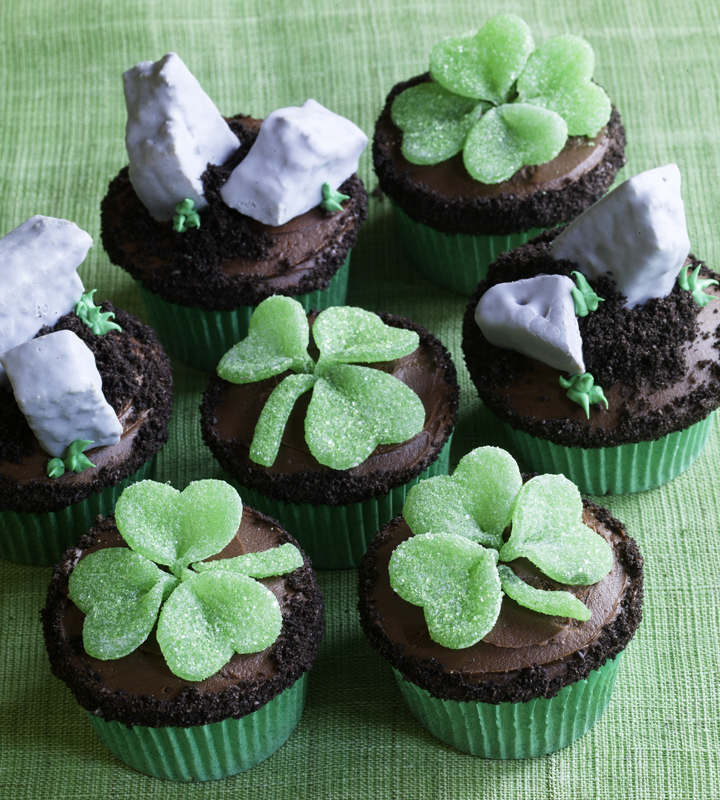 Do you subscribe to Hello Cupcake, What's Newsletter? If you don't, you might want to consider it.  The authors of two great cupcake books, Hello Cupcake! and What's New, Cupcake? have an online newsletter where they send emails once a month; Which is nice because you are not overwhelmed with emails.  Each month's email contains a recipe and decorating instructions for cupcakes that fit that month's major holiday or major event (January was Superbowl cupcakes).  This month's Blarney Stone Cupcakes recipe ties into St. Patrick's Day.  I love that everything on the cupcakes are edible, including the Blarney stones which are breakfast treats and shamrocks which are rolled spearmint.  Below you will find the recipe for the cupcakes but for more tips on how to roll the shamrocks, you'll have to look at the technique of the month page.
Blarney Stone Cupcakes

from the folks at Hello, Cupcake! and What's New, Cupcake?

24 chocolate mint chip cupcakes baked in green paper liners (Reynolds Baking Cups)

1 cup vanilla frosting, divided

Green and black food coloring (McCormick)

1/2 cup green decorating sugars

24 spearmint leaves

6 breakfast treats

1 can (16 ounces) chocolate frosting

1 1/2 cups ground chocolate cookies, (Oreos, Famous Chocolate Wafers)

1. Tint 1/4 cup of the vanilla frosting bright green. Spoon into a small ziplock bag. Press out the air, seal and set aside.

2. Break the breakfast treats into 12 small uneven pieces. Line a cookie sheet with wax paper and place a wire rack on top.

3. Tint the remaining 3/4 cup vanilla frosting with a drop of black food coloring to make gray. Microwave in a 1 cup microwaveable measuring cup, stirring frequently, until it is the texture of lightly whipped cream, about 25 seconds total. Drop several breakfast treat pieces into the frosting and stir to coat completely. Use a fork to remove pieces, allowing the excess to drain back into the cup, and transfer to the prepared wire rack. Refrigerate for at least 30 minutes or until set.

4. To make the shamrocks, sprinkle the work surface with the green sugar. Press 2 spearmint leaves together and roll out with a rolling pin, coating with more sugar as necessary, to make a 4 inch circle about 1/16 inch thick. Repeat with the remaining spearmint leaves and sugar. Use a 1 1/4 inch heart shaped cookie cutter and cut out 3 heart shapes from each flattened disc (you can also cut them out free-form using a paring knife or scissors, just make the hearts about 1 1/4 inches high). Cut a 1 1/2 inch stem from the scraps. Reroll scraps and cut out an additional heart to make 4 leaf clovers. Pinch the pointed end of each heart shape to make the cloverleaf shapes.

5. Spoon the chocolate cookie crumbs into a small shallow bowl. Spread the tops of the cupcakes with the chocolate frosting and smooth. Roll the edges of the cupcakes in the cookie crumbs. Arrange 3 to 4 green candy petals on top of 12 of the cupcakes, pointed end in center. Add a green stem. Transfer 2 of the chilled gray dipped breakfast treats on top of each of the remaining cupcakes. Sprinkle with additional cookie crumbs. Snip a small (1/8 inch) corner from the bag with the green frosting. Pipe pulled dots to make patches of grass in random areas next to the blarney stones.