By
hungry runner
on September 7th, 2011 . Filed under:
Reviews
.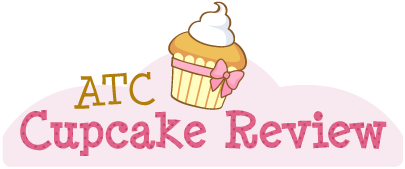 Jacob Bromwell manufactures authentic campfire, kitchen, and fireplace products.  These products include cooking and baking equipment such as sifters, cheese graters, pie plates, cooling racks, and more.  All Jacob Bromwell Products have a 100% lifetime guarantee to show how strongly they support their products.

Jacob Bromwell sent ATC one of their All-American Flour Sifters to be reviewed. The sifter was a stainless steel, five cup crank sifter that retails for $28.89.  I was impressed when the sifter arrived, it looked well crafted, high quality, and was very large.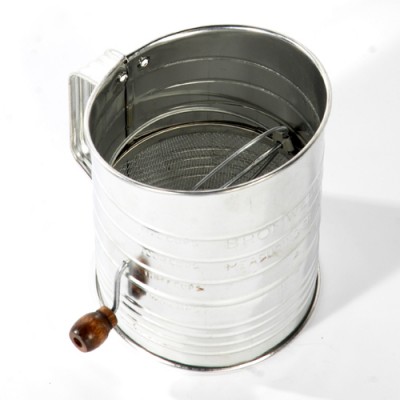 Normally I tend to stay away from recipes that call for sifted flour.  Prior to receiving the All-American Flour Sifter for review I did not own a sifter and sifting has always sounded like more work and more dishes.  But this time I set out to find a cupcake recipe that called for sifted flour and decided on Mrs. Kostyra's Spice Cupcakes from the Martha Stewart's Cupcakes book.  The recipe calls for cake flour, not self-rising.  I used Swans Down brand cake flour, which on the box recommends sifting before measuring.  The cupcake recipe called for four cups of flour so I filled the sifter almost all the way to the 5 cup line and with a few quick turns of the crank I was done.  I was amazed at how quickly the sifting went!  Next I measured out the four cups of flour and added the remaining dry ingredients to be sifted.  The recipe instructs you to sift the dry ingredients three times with a special note that says "Don't skip the crucial step of sifting the dry ingredients three times as it help to fully distribute the spices for the best flavor."   Using the sifter I quickly sifted the dry ingredients all three times and was able to move on the next steps.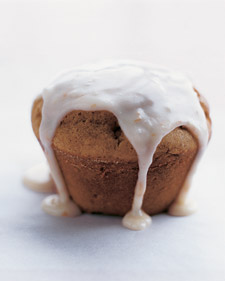 I actually liked using the sifter, as I have said, when turning the crank, the four cups of flour plus spices moved quickly through the sifter.  When I first started to turn the crank I thought flour might fly all over my kitchen but it moved quickly to the bottom of the sifter and nothing came out the top.  I was pleased with how my cupcakes turned out, the texture and appearance looked perfect.  The cupcakes had a strong but not overpowering spice flavor that was evenly distributed.  I will definitely be using the sifter for my next baking adventure!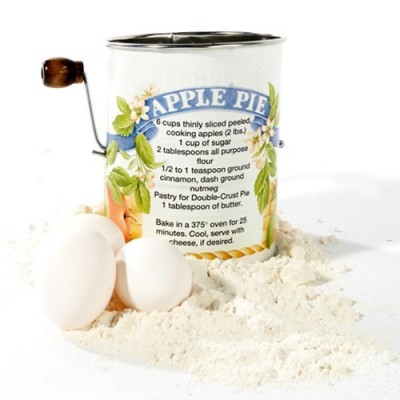 You can customize your sifter by choosing the size, style, finish, and orientation (two dollars extra if you're a lefty)!  There is also a designer flour sifter option, these cost $29.49 and  feature nestolgic pie recipes or sayings like "I Love Mom"
The sifter is great! It functions wonderfully and is a perfect tool to have when baking cupcakes!