By
The Cupcake Faerie
on Wednesday, November 30th, 2011
This is it.  Your chance to enter Ghirardelli fame and Facebook feature.
Recipe for your success: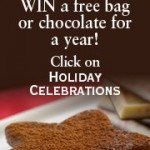 1 – "Like" the Ghirardelli page on Facebook.
2 – Fill in your basic information, upload your recipe, and upload your mouth-watering photograph.
3 – Win!
Perhaps we could do a group ATC entry?
I'd like to know of anyone's opinion on baking with Ghirardelli and whether you find the chocolate richer, softer, and needing more cocoa powder to balance for spreading and shaping?  What about the Ghirardelli Intense Dark?  And the Ghirardelli white that I nibbled at while baking with it last week – do you do that too?  Are we shorting our batches or should we just write them as 10 oz broken into small bits with remaining 2 oz for the cook!