By
hungry runner
on January 13th, 2011 . Filed under:
Cupcake Ideas
,
Recipes
.
I have been craving pancakes lately which got me thinking about pancake cupcake recipes.  I came across this recipe for stuffed pancake cupcakes by Katin Cooks.  They look pretty interesting and I think I might give them a try this weekend (recipe below).  I like that they're semi-home made but wonder if they're still cupcakes without frosting? Does syrup count?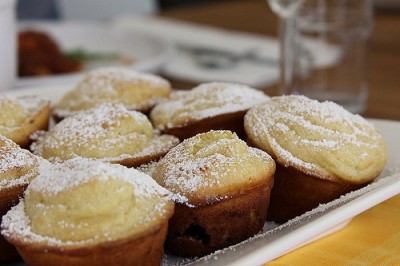 Ingredients
2 cups Original Bisquick mix
1 cup milk
2 eggs
1/2 stick butter
12 tbsp filling: try Nutella, fruit jam, or cream cheese
confectioners sugar for sprinkling
maple syrup for serving
Instructions
Preheat oven to 400 degrees. Generously coat the bottom & sides of a 12-muffin tin with butter. Make Bisquick pancakes per instructions on the box. Fill each cup in the muffin tin half-way. Add 1 tbsp of filling to the middle of each muffin, then cover with the remaining pancake mix. Bake 20 minutes. Remove from oven, place on serving dish & use a flour sifter to sprinkle with sugar. Serve with warm syrup.
Serves 6