By
hungry runner
on December 19th, 2010 . Filed under:
Blogs
,
Cupcake Ideas
,
Recipes
.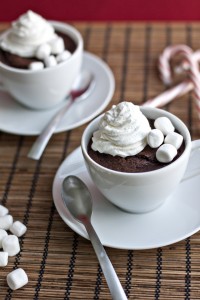 On this chilly December night these hot chocolate cupcakes sound perfect!  This cupcake recipe is courtesy of Babble, a website for parents.  Naturally I love that the cupcakes are baked in mugs and actually look like a cup of hot chocolate!
Hot Chocolate Cupcake Recipe
1 1/2 cups sugar
1 2/3 cups all-purpose flour
1/2 cup plus 1 tablespoon Dutch-processed cocoa powder
1/4 teaspoon baking powder
1/4 teaspoon baking soda
3/4 teaspoon salt
2 eggs
3/4 cup buttermilk
1/3 cup vegetable oil
1/2 tablespoon pure vanilla extract
3/4 cups very hot water or coffee
1 cup heavy whipping cream
1 1/2 tablespoons powdered sugar
Preheat the oven to 350 degrees F. In a large bowl or stand mixer, whisk together sugar, flour, cocoa, baking powder and salt. In a separate bowl, beat eggs, milk, oil and vanilla together. Pour wet ingredients into dry and beat on medium speed for 3 minutes. Pour in the hot water slowly and continue mixing until the water has just been mixed in.
Pour the batter into heat-safe mugs (6- or 8-ounce size) and place them 1-2″ apart on a sheet pan. Bake 25-30 minutes until center bounces back when touched. Remove from oven on the tray.
Beat heavy cream and powdered sugar until soft peaks form. Top warm cupcakes with whipped cream and mini marshmallows and serve.
Makes 12 cupcakes.
Variations:
*substitute peppermint extract for vanilla
*add in 1 teaspoon ground cinnamon and 1/8 teaspoon cayenne for Mexican hot chocolate cupcakes