By
hungry runner
on February 8th, 2010 . Filed under:
Announcements
,
Bakeries
.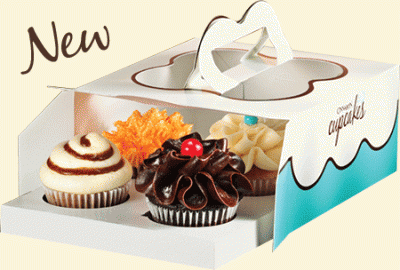 My best friend emailed to inform me that she had a cupcake from Cinnabon!  At first it sounded a little strange, Cinnabon if famous for cinnamon rolls, not cupcakes but the company's website says "After 25 years of making our world famous cinnamon roll, we're kicking off the next 25 years by introducing the world's best cupcake!" There are four flavors to choose from including, Cinnacake Classic, Chocolate Passion, Vanilla Bliss, and 24-Carrot Cake.

My best friend tried the Chocolate Passion (pictured above) and said that "it was really good but messy!"  She also noted that "they warm them up so the frosting melts a bit." These cupcakes sound like they would be worth trying and  are available in 4-count, half dozen, and dozen packages.