By
GreenEyedLillies
on October 31st, 2008 . Filed under:
Decorating
,
Holidays
,
Jewelry
,
Recipes
.
How do you win the heart of your lady Zombie? A Zombie Cupcake Necklace is sure to win her over!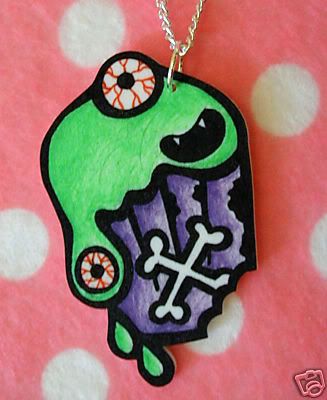 ZOMBIE CUPCAKE NECKLACE PSYCHOBILLY HORROR GOTH KAWAII 
What did the zombie bring to the Halloween party? Brain Cupcakes, of course!
Brain Cupcakes From HEY THERE, CUPCAKE! 35 Yummy Fun Cupcake Recipes for All Occasions.
I bet these Hoffa Zombie Cupcakes from NeedCoffee.com would also be a hit at the party!
Dressing up as a Zombie baker with a tray of cupcakes would make an excellent costume this year! Are you dressing up? What are you going to be?
Happy Halloween from ATC!