By
GreenEyedLillies
on July 21st, 2008 . Filed under:
Contests
.
This contest is now closed! We will post the winner by the end of the month.
After counting the votes we have come up with the top 5 cupcakes. Pick your favorite cupcake. One cupcake vote, per person and IP address! Since this is the finals…we are including the recipes of the top 5!
The top 5 cupcakes are…
CA – "Strawberrilicious" Baby Cakes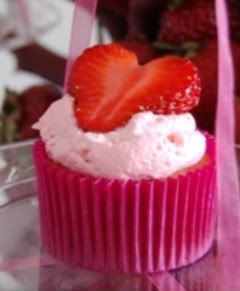 Recipe: Top Secret. Submitted by: Leyna's Kitchen  
FL – Lime Cupcakes with Mango Buttercream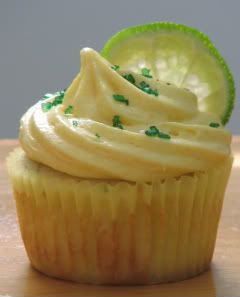 Submitted by: Marta of Sugar Crush Cupcakes
Recipe:
For the cake:
A basic vanilla cupcake recipe or boxed vanilla cake

1 large lime  
For the Frosting:
2 sticks softened butter
1/4 cup milk
1 tsp. vanilla
6+ cups powdered sugar
1 ripe mango
1 lime  
Prepare the cupcakes as directed for your basic vanilla cupcake recipe.  Add the zest and juice of a whole lime (if avaliable Key Limes can be used here) to the prepared batter and fold in until it is incorporated.  Bake at 350 degrees for about 15 minutes, or until a tester comes out clean.  Remove from oven and allow to cool.    While the cupcakes are cooling peel and dice one whole mango (about 1 cup).  Place the mango in a saucepan and add the juice of 1 lime.  On medium heat cook this down until the mango has become soft (stiring with a whisk helps this along), about 7-10 minutes.  When the mango peices have all broken down in the pot, transfer to a food processer and blend until smooth.  Set aside and allow to cool.   In a large bowl beat the softened butter until smooth.  Add two cups of the powdered sugar and beat until smooth.  Then add two more cups and beat until smooth.  Then add the milk and vanilla and two more cups of powdered sugar.  Once that is blended and smooth, add the cooled mango puree and blend.  Add more powdered sugar to reach the desired consistency.  Place frosting in a piping bag with a tip and frost the cooled cupcakes.  Decorate with a slice of lime.  
GA – Apple Pie Cupcakes with apple compote, lattice crusts, and buttercream apples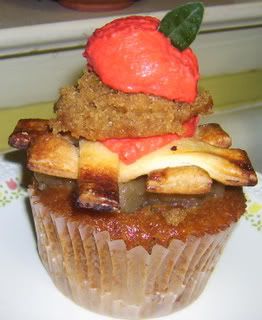 Submitted by: Jessica Miller
Recipe:
Apple Pie Cupcakes
cupcakes
1 1/4 c. apple cider
1/2 c. apple butter
1/4 c. maple syrup
3/4 c. sugar in the raw
1/3 c. safflower oil
2 tsp. apple cider vinegar
1 tsp. vanilla extract
1 1/3 c. organic all-purpose flour
1/2 tsp. baking powder
1 tsp. baking soda
1/4 tsp. salt
Mix all wet ingredients. Sift together all dry ingredients in a separate bowl. Add wet to dry in 3 batches. Mix till there are lumps. Bake for 25 min. at 350 degrees.
Apple compote
6 large apples cut into small chunks
1 1/2 c. water
1 c. sugar in the raw
1 vanilla bean
2 Tbl. brandy
1/2 tsp. cinnamon
1/8 tsp. ground cloves
1/8 tsp. ground nutmeg
pinch salt
Bring water to a boil. Add all the other ingredients and bring back to a boil. Reduce heat and simmer until apples  are soft and sauce is thick. Break up apples with fork until spoonable.
Lattice crusts
Use prepared pie crusts. Take one and cut into strips that are 1/2 inch by 3 inches. Take four strips and weave them into somewhat of a square. Make as many squares as you have cupcakes. Place them all on a greased cookie sheet. Brush with butter, sugar and cinnamon then bake according to directions on package.
Buttercream Apples
1/4 c. butter
1/4 c. shortening
3 c. confectioners sugar
1 Tbl. red food coloring (atleast)
Mix shortening and butter together with fork. Add confectioners sugar slowly and continue mixing until well blended. Blend until stiff peaks form and stay. Mix in food coloring.
Assemle core out the middle of the cupcakes after they have cooled and save the cores. Spoon apple compote into hollowed cupcakes till it overflowing a little from the top of the cupcakes. Take pie crust lattices and place on center of apple compote. Take cupcake core and center on top. Finally pipe a blob of red buttercream on top of the cupcake core and shape into a round ball. Garnish with a small leaf onto the buttercream.
IN – Sweet Caramel Corn Cupcake with Salted Caramel Frosting and Caramel Drizzle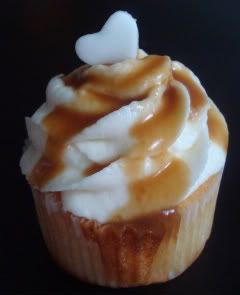 Submitted by: Happiness in a Bite
Recipe:
Sweet Corn Cupcakes *from couture cupcake blog        
1/2 cup butter        
1 1/2 cup sugar        
1 egg yolk        
1/2 tsp vanilla extract        
1 1/2 cups sifted cake flour        
2 1/2 tsp baking powder        
3/4 cup coconut water        
3 eggs whites        
1/4 tsp salt        
1 cup fresh corn kernels, cut straight off  the cob  
Preheat oven to 350.  
Line cupcake tray with 18 liners.  
Cream butter until light and fluffy.  
Add the sugar in two lots to the butter, beating for 2 minutes after each addition.  
Add the egg yolk and vanilla extract, beat until combined.  
Add the flour, baking powder and coconut water.  Beat on a low speed until combined.   
In a separate bowl, beat salt and eggs whites at high speed until stiff peaks form.   
Fold eggs whites into the batter.  Make sure there are no streaks in the batter.  
Gently fold in the corn kernels.  
Evenly divide the batter into the cupcake liners.  
Bake the cupcakes for 17-20 minutes until a cake tester comes out clean.  
Allow the cupcakes to cool completely before frosting.  
Salted Caramel Frosting *from chockylit        
4 tablespoons water        
1 cup sugar        
2 tablespoons light corn syrup        
1/2 cup heavy cream        
2 tablespoons butter        
1/2 teaspoon lemon juice        
1/2 teaspoon salt, kosher or sea    
Combine the water, sugar, and the corn syrup in a deep saucepan and cook over medium heat.  
Stir together with a wooden spoon until the sugar is incorporated.  
Cover the saucepan and let it cook over medium heat for 3 minutes.  
After 3 minutes, remove the lid, increase the heat to medium-high, and bring to a boil.  
Do not stir from this point on, but it is important to carefully shake the pan so that one area of the caramel doesn't burn.  
Continue to cook until the caramel turns an even amber color then remove from the heat and let stand for about 30 seconds.  
*** This is the dangerous part *** Pour the heavy cream into the mixture. Wear oven mitts, stand away from the pan, and be careful.        The mixture will bubble up significantly.  
Stir the mixture, again being careful. Add the butter, lemon juice, and salt. Stir until combined.  
Measure 1 cup into a Pyrex measuring cup. Stirring occasionally, allow to cool until thick like molasses and warm to the touch, about 20 minutes.  
Caramel Drizzle        
2 cups sugar        
1/4 cup water        
1/2 cup heavy cream    
Combine the sugar and water in a large heavy saucepan over medium heat.  
Cook, swirling the pot around, until the mixture is a deep caramel color and looks like syrup, about 8 minutes.  
Carefully pour in the cream (it will bubble up) and continue to cook for another minute. Cool to room temperature.  
TX – Caramel Apple Cupcake with Cream Cheese Filling and Caramel Topping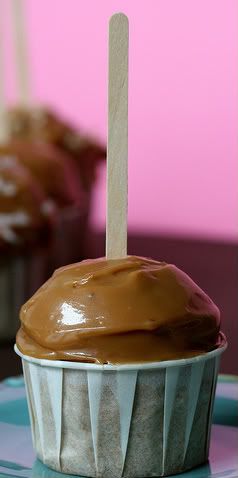 Submitted by: Chamberlaine Beard recipe by Cheryl Porro
Recipe:
Apple Cupcakes  
9 regular cupcakes / 350 degree oven
2-3 apples, granny smith
2 cups all-purpose flour
1/2 cup sugar
1 teaspoon ginger
1 teaspoon cinnamon
1/8 teaspoon nutmeg
1 teaspoon baking soda
1/4 teaspoon salt
2 large eggs
1/2 cup oil
1/4 cup apple juice
1 teaspoon vanilla
Rinse and core the apples. Place them on an ovenproof pan or baking sheet and bake for 30-40 minutes until soft.
Remove the apples from the oven, let cool slightly, then remove peel and mush the apple with the back of a fork. Measure out 1 cup of apple mush and set aside to cool.
Combine flour, sugar, ginger, cinnamon, nutmeg, baking soda, and salt in a medium sized bowl and whisk to combine.
Crack the eggs into a separate, medium sized bowl and beat with a form to break up. Add the oil, apple juice, vanilla, and cooled apple mush and mix to combine.
Combine the wet and dry ingredients until all ingredients come together.
Scoop into cupcake papers about 3/4 full so cupcakes will have a significant dome. Bake at 350 degrees for 20-22 minutes, rotating the pan after 15 minutes, until a toothpick comes out clean.
Cream Cheese Filling  
4 ounces Philly cream cheese  
1/4 stick butter  
2 cups sifted powdered sugar  
1 teaspoon vanilla  
Be sure to bring the butter to room temperature by letting it sit out for 1 or 2 hours. Then beat the butter vigorously with an electric mixer.
Scrape the bowl and add the cream cheese and beat until combine.  
Add the sifted powdered sugar and vanilla and beat until  smooth.  
Fill Cupcakes  
Cut out a cone from each cupcake. Flip the cone and cut off the excess. Set the top aside.
Fill each cavity with the cream cheese filling.
Replace each top.  cupcake ready for filling  filling the cupcake replacing the top
Thick Caramel  
1/2 cup butter  
1 cup packed brown sugar  
1/2 cup light corn syrup  
6 ounces sweetened condensed milk  
1 tablespoon heavy cream  
1 teaspoon vanilla  
1/2 teaspoon salt
Bring the butter, brown sugar, corn syrup and sweetened condensed milk to a boil over medium-high heat stirring to combine.                                                                                                       
With a wooden spoon, stir all ingredients together and then slowly add the heavy cream. 
Continue to stir for about 20 minutes until the caramel reached 248 degrees. It is important to continuously stir the mixture and to allow it to reach temperature.
Remove from heat and stir in the vanilla and salt. Transfer to a bowl and continue to stir for 2-3 minutes allowing the caramel to cool slightly.
Final Assembly
Using a small offset spatula, frost each cupcake with the caramel.
If desired sprinkle warm caramel with any number of toppings, like coconut or crushed nuts.
Transfer the cupcake into the freezer to allow the caramel to set without dripping over the edge of the cupcake paper.
Continue frosting and topping the cupcakes and try towork fast. As the caramel cools, it becomes less spreadable. If possible work in pairs and let your helper top the cupcakes and transfer them to the freezer. By the time you reach the last few cupcakes, you will not longer need to freeze them and you can take all the cupcakes out and transfer them to the counter.
Top off each cupcake with a popsicle or craft stick to finish off the look.    
Voting for the first round ends on Friday July 25th, 2008. The winner will receive this prize: Sneak Peak Prize Basket