By
cupcake girl
on February 17th, 2008 . Filed under:
Decorating
,
Recipes
.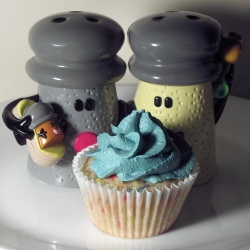 Michelle of Clever Cupcakes created a kids cupcake with grape Kool-Aid buttercream. It never occurred to me to use Kool-Aid in buttercream before. My eyes have now been opened to the endless possibilities of this new found discovery. The cake is Vanilla Confetti made with rainbow non-pareils. The picture is adorable as well.
Vanilla Confetti Cupcakes (yields 24)
3 cups cake flour
1 1/2 cup sugar
3/4 cup butter
1 cup milk
3 eggs
1 tbsp vanilla
1 tsp. salt
1 tbsp
1/4 cup rainbow-non pareils (round sprinkles)
Mix dry ingredients. Add butter and let mixer run until butter is broken down into pieces no larger than a pea. Meanwhile add approximately 1/4 cup of the milk. Once butter is combined add eggs one at a time. Add vanilla to remaining milk and add mixture slowly will the mixer is still running. Scrap down the sides, add sprinkles to batter, and mix until batter is smooth. Bake at 350 until toothpick comes out clean (between 18-22 minutes).
Grape Kool Aid Buttercream
2 1/4 cups powdered sugar
4 single serving grape kool aid packets
1/4 cup boiling water
1/2 cup butter
1/2 cup trans fat free crisco
Place powdered sugar and kool aid in bowl of mixer and pour boiling water over top. Mix at high speed using whip attachment until mixture is cooled to room temperature. Add butter and crisco then whip at high speed for 10 minutes. Add optional blue food colouring.