By
stayhomecupcake
on October 4th, 2010 . Filed under:
Crafts
,
Cupcake Ideas
,
Giveaways
.

So do you know what a cupfake is?  A cupfake is a fake cupcake- all the sweet and zero calories!  This week we are giving away one cupfake from new Etsy seller Frankschick.  Her Etsy store is called The Cakery Fakery (how cute is that?!)  You may remember her is a previous post by Applecupcake.   She is obsessed with cupcakes but alas, admits to being an awful baker!   So instead of heading to the supermarket for cupcake supplies, she headed to Home Depot.  Her cupfakes are all 100% hand made, hand painted and hand decorated by her.  These are just a few of my favorites:
 I am so pleased to own one of her creations because it looks so realistic.  Every time I look at it I get hungry!  I was also extremely pleased with the Cakery Fakery's high importance on customer service.  One of the best cupcake artists Etsy has to offer.
This week The Cakery Fakery is giving away one set Halloween cupfakes to a sweet reader.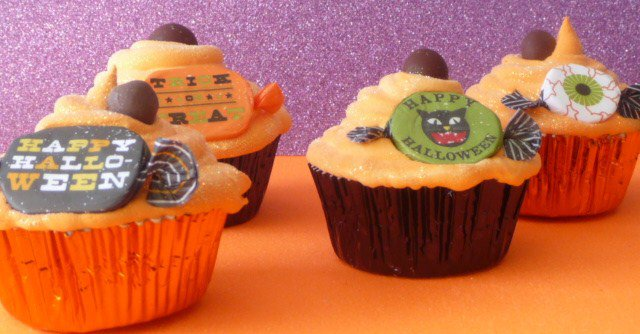 To enter, visit her shop and pick out your favorite then come back to ATC.  Click on the comment area below and tell us your favorite and also tell us what kind of cupfake you think she should make next.  One winner will be chosen on Monday October 11th.
Make sure to also become her fan on Facebook!