By
applecupcake
on September 5th, 2010 . Filed under:
Gifts
,
Party Items
,
Wedding
.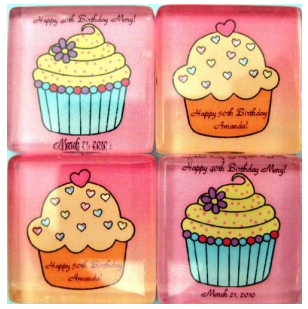 So you are planning the best birthday bash, the most wonderful wedding?  Have you organized great music, food, a perfect venue and have fantastic cupcakes planned for the occasion?  So after all this planning and preparation you know that your guests are going to remember your party for a long time to come!  Right?  Well maybe, but what will help is a visual prompt to take them back to that day!
My daughter is constantly looking at things and recalling the day we got them, like the Mothers day shopping list stuck to our fridge.  She tells me about buying it for me every second morning when she sees it!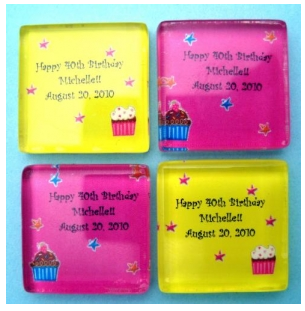 To create your own visual prompt why not add a magnet to your party invite or to your party favor bag / box?  This could be the perfect thing for people to remember the date of an upcoming party and the fun they have had long after the event.  I found these in our ATC sponsor's store Diva Entertains and just had to share them with you.  You personalize them with what ever you want to say, choose the background color (where applicable) and presto.
What do you think? Have you ever received a really bad party favor and what was it?  I would love to know!  Or do you know of some really good party favors?  I found some heart shaped measuring spoons which were really cool, though I am not sure that people not into baking would like it so much, though I'd take theirs, one set is never enough! :)