By
cupcakeSerenity
on September 4th, 2010 . Filed under:
Bakeries
,
Television
.
Zombies on Cupcakes?  Yummy! 
The Walking Dead is a new television series based on the comic book series of the same name.  In the US, the series will air on AMC, and in the UK, FX.  Hence the Fox logo amongst the spooky frosting faces.
It was Fox who ordered the cupcakes from Clares Cupcakes of London, for a press party.  The folks at Clares really know how to make a cupcake.  I was blown away by the pictures on their website. 
They specialize in cupcakes for special events, and I have never seen more tantalizing displays.  I wish I'd had them for my wedding!  They hand deliver orders to events in the London area.
All of their cupcakes are handmade to order from the freshest ingredients, including free range eggs.  Their slogan is, "the most fun you can have on a cupcake."  Well, I'm sold, zombies and all!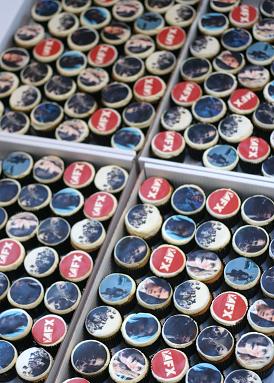 In the US, The Walking Dead premieres on … you guessed it … Halloween!  In the UK, it will premiere in November.
I'm almost inspired to try my own hand at some nightmarish sweets.