By
GreenEyedLillies
on January 27th, 2009 . Filed under:
Tattoos
.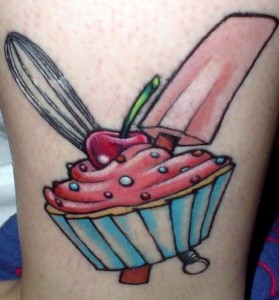 ATC Reader Valérie sent us this email and photo of her cupcake tattoo…
Hey guys!
I love your blog! I just got a tattoo recently and I thought you would like it!
When I asked her who did it she replied…
…my friend Bill Desormeaux and he's doing it at his place (well, it's a business, but he's doing a bunch of stuff that are not tattooing…) in Rouyn, Abitibi, Québec. It's my hometown in northern Quebec!
We love it! Thanks for sharing your cupcake tattoo with us Valérie!