By
cupcake girl
on June 20th, 2008 . Filed under:
Other
,
Party Items
.
You've asked, we got it.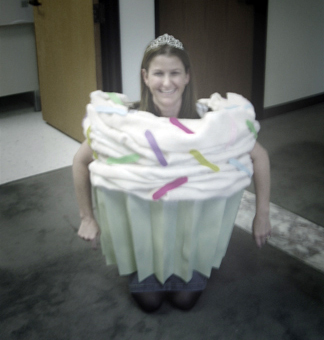 Here are complete instructions on how to make the cupcake costume we featured here. Sent in from Meredith .
I had so much fun figuring out how to make
it, can't believe I didn't win the costume contest at work.
Here are my directions:
1. I used a round laundry basket for the inside frame (not as easy to find
as one might think). Believe I found mine at K-Mart. Cut out the bottom and
cut a line down the back to put it on I tied two straps to the top like
suspenders to hold it on my shoulders (the frosting covered those up).
2. I took a stiff board, but not as heavy as cardboard and folded it in 2"
or 3" accordion sections and stapled them together after I made sure I had
enough. When I attached it to the laundry basket I got the inner folds of
the board and punched little holes like a : a few inches from the top and
bottom and used craft wire to connect it to the cross bars of the wash
basket. When I had that part done I spray painted the bottom.
3. for the frosting I got some of that 1/4" flat batting from the craft
store. I hot glued the first layer onto the basket rim and top of the
cupcake liner. Then I believe I used spray glue to glue the rest. Remember
to cut the batting in the same place you have your opening in the back so it
opens for you. I laid it out in sections first then glued it. About 2 layers
into the frosting I didn't glue on the sides so my arms would fit through. I
marked it on the inside so I knew where my arms would go.
4. I taped off the bottom and spray painted the frosting. And for the
sprinkles I just used plain felt and cut out sprinkles and hot glued them
on. Once I had it on I had someone use a paperclip to clip the top and
bottom of my opening to keep the board closed.
And that is about it. Let me know if you have any questions.