By
applecupcake
on Sunday, August 22nd, 2010
One of my favorite things is seeing the different tattoos that you our readers submit to us!  I could never have believed that we would see such diversity in cupcake tattoos! Today is no different, we have total opposites for you!
Our first is from Emma who got herself a Zombie Tattoo, yup thats right a Zombie! She admits to being crazy about cupcakes, with her own cupcake business 'The Cupcake Emporium' and also about Halloween so she combined the two to come up with this little green Zombie Cupcake. Personally I am strongly hoping that she doesn't combine these two passions while she is baking those cupcakes!  hehe, I'll have a batch of cupcakes, but you can hold the worms!
Emma plans to create a five cupcake series with a werewolf, a Dracula, a skeleton and a witch or Frankenstein on her lower back.  All in cupcake form of course!  If you think Emma should go in a particular direction let us know!!  Perhaps she will be share the image with us again when she has it done!! :)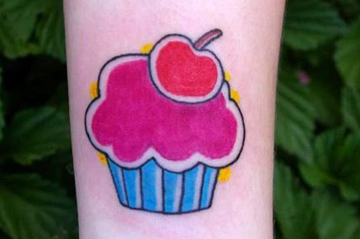 Our second cupcake tattoo is from Kambry who wanted something to signify her daughter, but instead of going the been there and done that name or foot print she went for a cute cupcake! Soon she will have her daughter's date of birth printed underneath!