By
The Cupcake Faerie
on Friday, July 29th, 2011
Papaya.  I never buy this fruit here in Upstate New York, having convinced myself that to enjoy it, I would need to be somewhere tropical.
Not true, ATC readers! and here are the papaya cupcake recipes to prove it.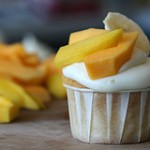 Start with Coconut Rice Pudding Stuffed Cupcakes with Ginger Cream Cheese Frosting & Papaya.  A long name for papaya used as a garnish to top off an unusual cupcake.  You'll also notice that I'm continuing my recent penchant for lime…
Get more adventurous with Papaya Cupcake.  This recipe appears in Spanish, but, if you're using Google Chrome as your Internet browser, this nifty top bar pops up asking if you want the page translated into English – answer? yes.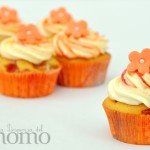 The tip on putting a dye tube inside the frosting piping bag to get the beautiful swirls is just OTT.  I discovered La Depensa del Gnomo during my global cupcakes week, and he never fails to impress.
May this inspire you to venture into the land of tropical fruits this summer no matter your climate!