By
cupcake girl
on Tuesday, September 9th, 2008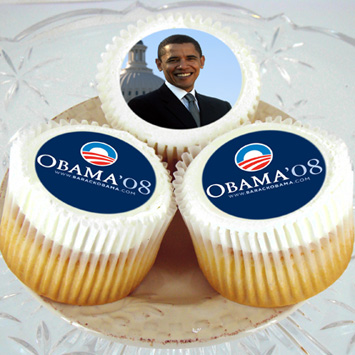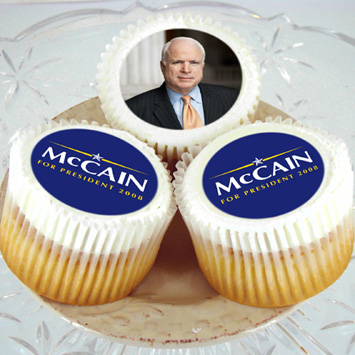 Their faces are everywhere. In the papers, on television, billboards, bumper stickers and buttons. Now, you'll find their pictures on these new Obama and McCain cookies and cupcakes from famed Southern California bakery Mrs. Beasley's. Candidate logo cookies/cupcakes are also available. And, whether you find the candidates sweet or crumby, these delectable treats are guaranteed to appeal to the tastes of all of your readers.
Available to be shipped nationwide, the Obama / McCain cookies come in packs of 6 for $21.00 and $42 per dozen plus shipping. The cupcakes are priced at 6 for $26 and a dozen is $48 plus shipping. The cookies and cupcakes can be purchased online at www.mrsbeasleys.com/ObamaMcCain.cfm. They're sure to be the hit of any convention, debate or election party. Obama and McCain cookies/cupcakes are also available at two of Mrs. Beasley's eight Southern California locations, Beverly Hills and Encino.
"At Mrs. Beasley's we're bi-partisan when it comes to political candidates," says Ken Harris the company's CEO. "But, we are partial to creating cupcakes and cookies and other baked goods that look and taste fantastic. These treats are fit for a President!"
This year, Mrs. Beasley's is celebrating 30 years as baker to the stars and after three decades in the business the renowned bakery is still delivering gourmet gift baskets to the biggest names in Hollywood including Academy Award winners – Tom Hanks, Reese Witherspoon and Hillary Swank. They have customized baskets for all the major networks and studios, sent "Muffin Tops" from the producers of Seinfeld, Colossal cupcakes to the cast of Entourage and delivered "post incarceration" sweets to Paris Hilton.
Mrs. Beasley's gourmet bakery and renowned catalog of freshly-baked deserts have a rich and storied history that dates back to 1978 when two sisters began providing their Beverly Hills neighbors with unique hand-made treats and gift baskets. Within months their orders had nearly doubled and they became the talk of the town and an entertainment industry favorite. The Hollywood connection quickly spread and the demand for Mrs. Beasley's products soon grew with requests pouring in from far beyond Los Angeles.
Mrs. Beasley's decadent treats are available anywhere and anytime – by phone 1-800-710-7742, online at www.mrsbeasleys.com and at the company's eight retail locations in: Beverly Hills, Encino, downtown Los Angeles, Brentwood, Pasadena, Costa Mesa and at South Coast Plaza.