By
stayhomecupcake
on Monday, January 3rd, 2011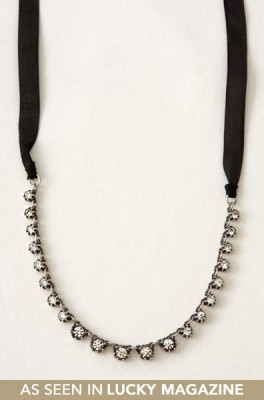 Happy New Year cupcake fans! Our first giveaway of 2011 is a special one.  I'd like to introduce you to Stella Dot's Ava Cupchain necklace.  Now I know it doesn't have too much to do with cupcakes but isn't it beautiful?  To me the little Czech stones resemble our little cuppies but maybe I just have cupcakes on the brain!  I love that the ribbon tie allows this necklace to be any length you wish.  I wear my cupchain often and get many admirers checking it out. 
Now you have the chance to win this necklace from Stella Dot seller, Lisa Daly.   First, visit Lisa's Stella Dot site and peruse all the amazing  jewelry, girl's items and totes they have to offer.  Then come back to ATC and click on the comment area below and tell us what was your favorite item. 
One winner will be chosen on Monday, January 10th.   
Check out a few of my other favorite Stella Dot pieces!
Special thanks to Lisa Daly for sponsoring this wonderful giveaway!