By
The Cupcake Faerie
on Monday, August 8th, 2011
Is it possible to cupcake topping your way to happiness?
Let's start with the basics:  a white cupcake with a white frosting.  Vanilla-on-vanilla, and I'm going to add a little vanilla ice cream.  Vanilla signals simple, uncomplicated, neat, cool enjoyment.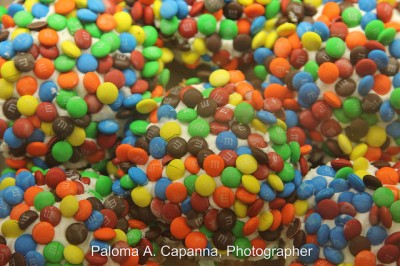 Put mini M&Ms on that same vanilla-on-vanilla cupcake, and it's a game changer!  It's not just adding the chocolate of the candies.  It's adding everything associated with rainbow-colored M&Ms, like childhood, blue skies, remembering the brown ones, and even reminiscing about UK Smarties.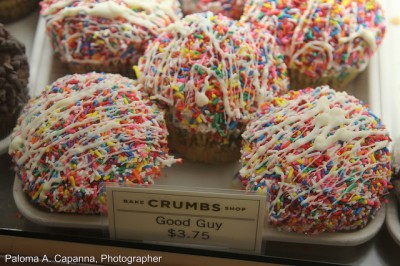 Likewise, take the Crumbs Bake Shop cupcake "Good Guy."  How do I know, just by looking at it that it will be good?  It's vanilla cupcake, vanilla frosting, rainbow sprinkles, and white drizzle.  Think Glinda, the Good Witch from the Wizard of Oz.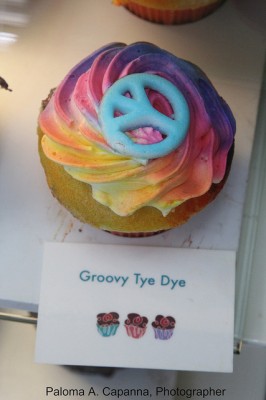 Or, how about tye die and peace sign cupcakes at Cupcakes by Carousel?  Now there's a sure-fire way to make me smile.  I don't even think that there's a flavor associated with this visual, but it signals to my whole being:  "Don't worry – be happy!"
Cupcake with a smiley face, anyone?