By
applecupcake
on Wednesday, December 8th, 2010
They are pretty hard to miss!  Maybe it is the lovely smell that wafts from their open windows, or the people who have formed a queue at some random corner of town, or maybe it is their bright bubblegum pink color? Whatever the case, the cupcake truck has become a part of our day to day lives and you may even find yourself wondering how you managed without them!
One such company is Simply Cupcakes of Naples, bringing New York style cupcakes to the streets of Florida.  And why not?  There is such a large market in people who just don't have the time to get to their local cupcake store!   Having had a foot inside the cupcake kitchen since 2006, it is no wonder Simply Cupcakes of Naples are proving successful with everything they touch, including delivered cupcakes!
Have you tried a Simply Cupcakes cupcake?  If not, simply keep an eye out for this snazzy cupcake van, their white and pink van or alternatively call them to book a delivery.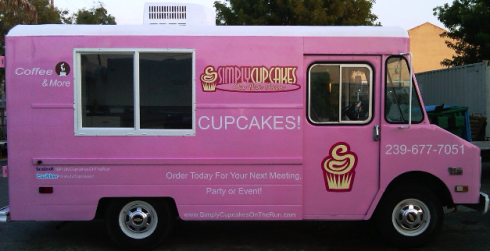 You can follow Simply Cupcakes of Naples on both Facebook and Twitter.