By
The Cupcake Faerie
on Friday, December 2nd, 2011
I'm going to put this under "cupcake," even though I'm generally a purist and a round ball wouldn't qualify as a cupcake.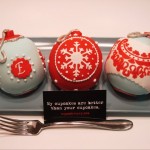 But 'tis the season, I'm on a quest for the most beautiful of holiday cupcakes, and these cupcakes were created by Cupcake Envy, a bakery of "sculpted cakelets" by owner Amy Eilert.  Cupcake Envy's Facebook photos sport so many great shots, you'll have no shortage of inspiration.
You may also want to notice that Cupcake Envy sells "how-to" videos.  Not a bad idea, if you think that you've been nice!