By
applecupcake
on Thursday, August 26th, 2010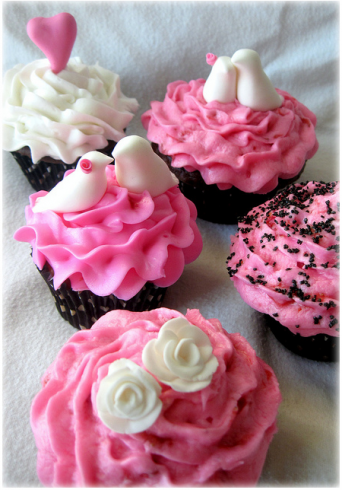 What to choose as the cupcake design when you are getting engaged?
One thing is for sure, you will need a lot of them, so it is probably best to go for a simple design, but if you still want something amazing and stunning then these cupcakes by Isabella's Sweet Tooth are sure to be perfect.
Depending on the amount of time you have you can create just 3-5 of the amazing little fondant birds (in white cuts down on time mixing a color), or just go with that funky heart!
When creating a tall stand up cupcake topper like the heart, use a toothpick in the fondant.  This also makes it easy for those eating it to remove it!
Cover your other cupcakes with the same color icing to create a uniform look, even thought the actual decoration on top may be different and less work.  Isabella's Sweet Tooth cupcakes are vanilla with strawberry buttercream.