By
The Cupcake Faerie
on Tuesday, November 29th, 2011
What do you get when you take a steak house owner and put him in a cupcakerie?
Answer:  Coke + Ruffles cupcakes!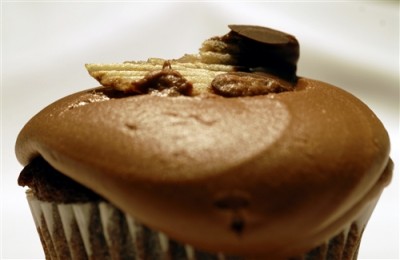 Now I know that everyone is thinking holiday cupcakes and presents, but, after all, Santa Claus is a man, so perhaps our stockings would become a bit more plump if we left guy-inspired cupcakes beside the fireplace on Christmas Eve?
4 Rivers Sweetshop owner John Rivers has come up with several of these "sweet and savory" cupcake ideas, including Moutain Dew + Doritos cupcakes.  Rivers told The Today Show that he's working on Nehi grape soda cupcakes, and that the secret to using sodas in frosting is to boil it down to syrup thickness.
Now that's one Ho-Ho tip I'm headed into the kitchen to try!