By
applecupcake
on Wednesday, November 10th, 2010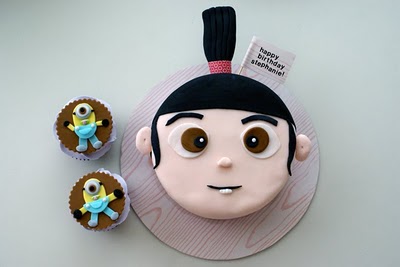 The recent movie Despicable Me was all the rage here in the last school holidays and it was hard for anyone in our family not to absolutely adore it.  I totally loved the little girls Margo, Edith and Agnes, and Gru was fantastic in his evil lovable way!  But for the kids, the best thing of all was of course the clumsy, funny and always hard working Minions that won their hearts!
So what to create for a kids birthday party?  Well why not a super cool birthday cake of one of the girls, and surround it with many many Minion cupcakes!
Cococake Cupcakes did just that recently for one of their customers, and I adored how they came out!