By
applecupcake
on Friday, August 20th, 2010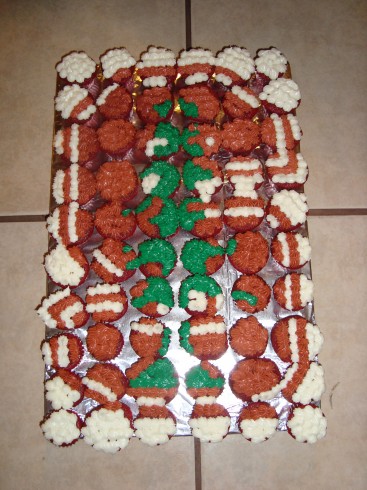 Marisela totally rocked it with this awesome cupcake design that she created for her niece's 'Off to College' Party.  Marisela got the idea watching DC Cupcakes where she saw them make two cupcake pictures using a company's logo and planning it out on a grid in order to map out the picture.
Without time to do a trial run or practice at all, Marisela pulled this off brilliantly creating the monogram for the college.  She used no less than sixty mini cupcakes, all red velvet and topped with cream cheese frosting.  The occasion was a small BBQ, so she used a styrofoam base underneath covered in foil to hold each cupcake in place with a toothpick.  Now I think that is a great idea!
Well what did her niece think of all this effort?  She was totally stoked!!