By
applecupcake
on Tuesday, April 12th, 2011
So many choices, the obvious leader… Chocolate, the other contenders carrot and caramel… but I wanted to choose something a little different, chili!  But don't worry, if you love chocolate, I have actually mixed the two and gone for a chili chocolate cupcake!  In fact, why not add another C, in the form of some Cinnamon!
Throw it all together and you have these wickedly good looking cupcakes…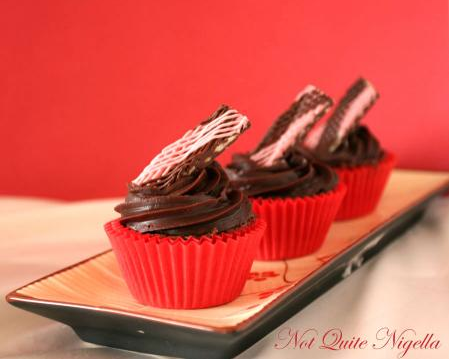 Cinnamon, Chili, Chocolate Mud Cupcakes
As you can tell from the photo, this cupcake is from Not Quite Nigella.  Lorraine is from down under, in fact, from my original home city of Sydney.  She is making quite a statement and has a book due out next year.  But lets get to talking about this cupcake, the mud cake is rich and dense (like a good mud cake should be) and uses Dagoba Powder for the spice mix.  Don't fret though if you don't have this in your local supermarket as it can easily be recreated by making your own, which is explained on the blog, along with the irresistible recipe!