By
applecupcake
on Saturday, March 5th, 2011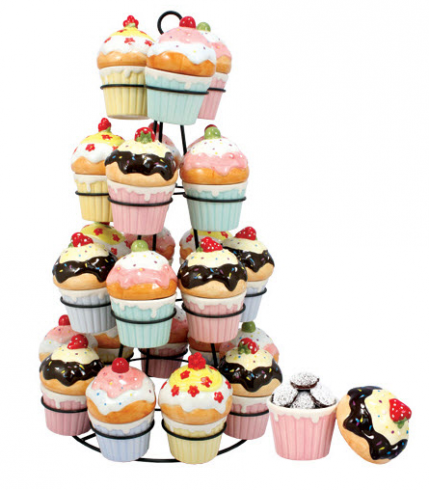 After throwing our first ever cupcake themed party a month ago for my daughter's 7th Birthday I am a massive fan.  The girls all had a fantastic time decorating the cupcakes, in the tea party like setting I had created.  I only wish I had known about these first!
This is a cupcake centerpiece , which (don't be fooled by the picture) is quite big standing at about 20 inches tall, each cupcake being 5 inches tall.  But the best thing about these is that they offer you unlimited ideas for future cupcake parties, or tea parties.
Bought new each of these cupcakes is actually a jar, and inside is a packet of cupcake flavored cookies! So you can, if you want give them as gifts after the party… OR you can keep them and re use again and again.  Even play games with them, such as hiding something in one cupcake jar!  Actually I am thinking these would be perfect party favors at our wedding later this year…
Of course, you don't need to get the full stand with all 24 cupcakes, you can also buy the cupcake jars filled with cupcake cookies individually.  Best of all, is I hear the cookies are amazing! I could really go the triple chocolate cookie jar right now!
If you are looking for these, you'll find them at Diva Entertains!