By
applecupcake
on Sunday, October 31st, 2010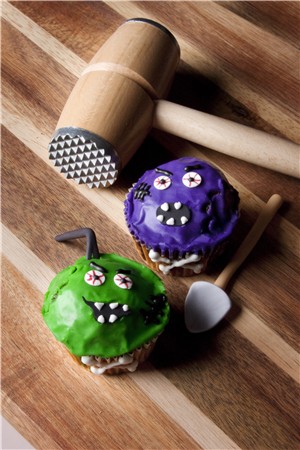 Happy Halloween Everyone!
Today I thought I would bring you three great last minute Halloween Cupcake ideas!  You may have heard of it already, but Zilly Rosen recently released her book Zombie Cupcakes in the UK.  It is coming to America soon, but the best news is that you don't have to wait as Made for Moms features three ideas complete with recipe and decoration directions!  There are the Zombie Rising Chocolate Mud Cakes, the Brain Food Honey Cupcakes and last but not least the Bludgeon to Survive Pumpkin Cupcakes.  Check out each of them by clicking on the links.
My favorite?  I can't go past the Bludgeon to Survive cupcakes shown here, especially as you need to make crowbars, baseball bats and shovels!
But alas, I have already made my cupcakes for this year, zombies with with chocolate ganache filling!  Yummy!