By
Lauryn
on August 4th, 2013 . Filed under:
Cupcake Help!
,
Kitchen
,
News
,
Recipes
.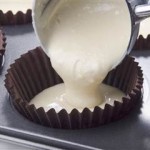 We've all had those days in the kitchen where something happens and we're unexpectedly left with a cupcake tray that has empty liners and the conundrum of whether to reconcile the situation with fewer or smaller cupcakes. Whether you dismiss it as a consequence of the spill at the hands of favorite your little helper or the presence of too many willing volunteers offering their batter-sampling services, you might shrug it off and move on to the next thing. But when that situation arises and you're alone in the kitchen, you realize the sad truth that the culprit might actually have been your trusty box of cake mix all along.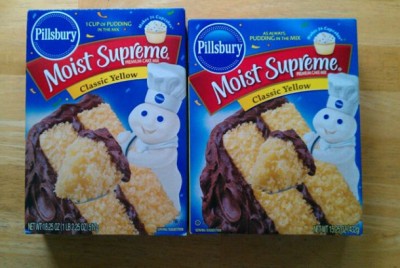 NBC News reports that several popular brands of cake mix are downsizing their packaging and its contents to compensate for rising product costs to avoid the cannibalism of eating away at their profits. Pillsbury and Betty Crocker have each resorted to 15.25 ounce packages of cake mix. So far, Duncan Hines has been able to maintain the former 18.25 ounce standard while King Arthur Flour refuses to abandon their 22 ounce specialty mixes for now. This frustrating product downsizing trend extends well beyond the cake mixes of the baking aisle.
But just because the cake mix companies are downsizing their products doesn't mean we have to accept fewer or smaller cupcakes in our turn. Coupon advisor Jill Cataldo points out that many recipes use cake mix as an ingredient and the change of weight can affect the final results. So came up with a recipe for cake mix "up sizer," to add back the three ounces the companies have removed.