By
cupcakeSerenity
on October 7th, 2012 . Filed under:
Cupcake Ideas
,
Photos
,
Recipes
.
Maple Nut Goodies are an important food group in this household, so I'm not sure why I haven't put them in cupcakes before now. But now that I have, there's no going back, because these cupcakes were a HIT! I'm not sure I've ever received such rave reviews.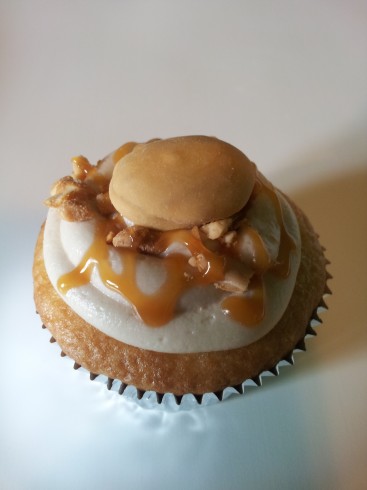 Here's what I did:
I used a white cake mix (don't tell!). The mix called for 1/3 cup of vegetable oil, which I replaced with real maple syrup, straight out of the tree. (Okay, not straight out of the tree.) This made the cupcakes a bit sticky, but the stickiness is well worth it.
I also plopped a Maple Nut Goodie right into each cupcake before baking. However, these sank to the bottom and caused the cupcakes to stick to their wrappers, so next time, I will cut the goodies into bits before putting them into the mix.
I baked as directed. In the meantime, I crushed up some salted peanuts and purchased some bottled caramel. For the frosting, I beat together 1 stick of butter, about 2 cups of powdered sugar, about a half cup of maple syrup, and a splash of half and half.
After the cupcakes cooled, I piped on some frosting. Then I sprinkled on some crushed peanuts. Then I drizzled on some caramel. Then I plopped another Maple Nut Goodie on top. And voila! The perfect sweet and salty Maple Nut Goodie cupcakes. Trust me. These are worth the effort!