By
CandidCupcake
on September 5th, 2012 . Filed under:
Cupcake Ideas
.
Once again, the Huffington Post has some good ideas for the amateur cupcake artists out there.  Are you ever intimidated by the idea of frosting your cupcakes?  I don't think I would have ever considered trying to swirl together two different colors of frosting, but now that I read this post, I'm not exactly sure what I was scared of.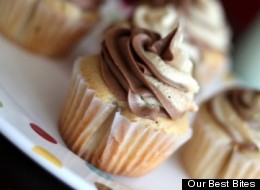 Just pick two colors, get two piping bags and fill each one half-full with one of the colors, flatten the bags and stack them on top of one another, place them inside a large piping bag fitted with the decorating tip, and squeeze!