By
hungry runner
on August 24th, 2012 . Filed under:
Bakeries
,
Cupcake Ideas
.
For my birthday last month, my family and I went to London to celebrate! Since we were celebrating my birthday and London has several favorite cupcakes shops, I made sure trying the shops were on our to-do list! The first cupcake shop we visited was the famous Primrose Bakery.  We stopped in the location near Covent garden and enjoyed two classic flavors, chocolate cake, or sponge as they call it in London, with vanilla frosting and vanilla sponge with vanilla frosting.  Both cupcakes were delicious and I would say they lived up to their reputation.
The next stop on our cupcake tour of London was another famous shop, Hummingbird Bakery.  We grabbed a quick cupcake at the SoHo location before heading to The Palladium theater to watch the Wizard of Oz.  At Hummingbird Bakery we decided on three flavors, Red Velvet, Black Bottom, and Ginger.  Just like the Primrose Bakery cupcakes, the Hummingbird Bakery cupcakes were as delicious as they are said to be.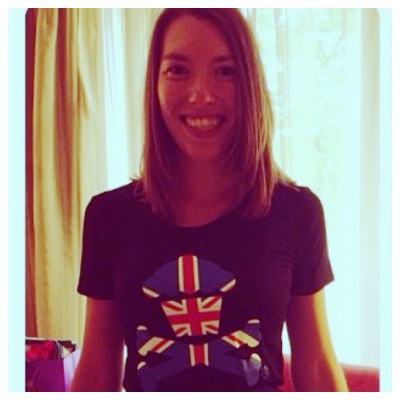 On our shopping day I made sure visiting the Johnny Cupcakes London store was on our to-do list!  As a fan of the Boston store I couldn't resist checking out the London store and purchasing the Union Jack flag shirt.  I also grabbed a few of the fun london pins, like the iconic double decker bus covered in frosting and a special pin with the olympic torch.
One of my favorite parts of the trip to London was checking out all the famous department stores like Harrods and Fortnum and Mason!  The department stores in the UK are so much better than what we have here in the US, mostly because UK department stores have multiple floors, cafes, restaurants, and the best part is the food halls!
Throughout the Harrods Food Hall there were cupcakes that looked amazing but I personally I liked the food hall at Selfridges the best, it was more affordable and had fun vendors like Krispy Kreme, Pinkberry, Pierre Herme Macarons, and cupcakes.  I couldn't resist buying a mini salted caramel and regular cookie dough cupcake from Selfridges and I was happy I did! The cookie dough cupcake's frosting tasted like real cookie dough! While Hummingbird bakery and Primrose bakery are famous and delicious, the Selfridges cupcakes are just as good!
While wondering around The Borough Market I nocited Konditor and Cook and being as cupcake obsessed as I am I couldn't resist trying their curly whirly cupcake.  The cupcake which was a dark chocolate sponge with vanilla bean frosting had some of the best frosting I have ever tried!  I also learned a new trick from the girl that boxed up my cupcake.  If you hold the box vertically instead of horizontally and place the cupcake standing up (see picture to the left), you won't smash your frosting!
After several days of sight seeing and cupcake eating I passed up cupcake from Sweet Couture Cupcake Boutique even thought their patriotic display looked great!  I managed to check out the original Primrose Bakery where I grabbed a quick brownie to enjoy while shopping in the Primrose Hill neighborhood.  Overall, London really loves cupcakes, you can find cupcakes are all over the city and the best part is they are delicious! I highly recommend trying any cupcake you find if you travel to London, even the prepackaged cupcakes in Marks & Spencer, the grocery store, looked good!