By
hungry runner
on July 19th, 2012 . Filed under:
Cupcake Ideas
.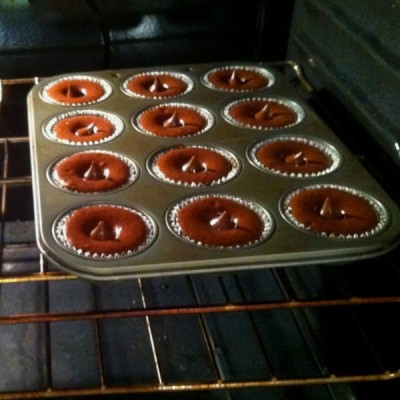 I am a huge fan of Pinterest but at times I find my self clicking that "repin" and "like" buttons a little too much.  I have so many baked goods pins right now there is no way I will ever get around to making them all!  I have started to wonder with all the pins going around if things actually work, do the instructions for the DIY projects produce homemade items that look like the pictures?  Do the recipes turn out to be as awesome as they look?  I found Pintrosity, which claims that not all pins work out the way we hope they would.
The original pin, which I even have saved to my cupcake board, tells you to "Bake cupcakes for 5 minutes and then drop a Hershey Kiss in the center and continue baking. It sinks to the middle and makes a chocolate center!"  According to Pintrosity, the cupcakes failed miserably.  Years ago I made the red velvet cupcakes from Woman's Day magazine that called for Hershey's kisses in the batter before baking.  When I saw the kisses in cupcakes idea on Pinterest I thought back to these cupcakes and how the kiss turned out hard.  I thought the shortened baking time would help make the kiss soft and melty but Pintrosity says otherwise.  Has anyone else tried these cupcakes?  Did you end up with a chocolate center or a hard piece of chocolate?  Any other Pinterest cupcake fails our there?