By
CandidCupcake
on July 6th, 2012 . Filed under:
Cupcake Ideas
.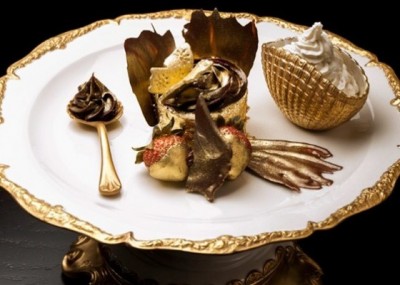 Bloomsbury's, a cafe specializing in boutique cupcakes and other sweets, opened at the Dubai Mall last week.  At the opening ceremony, The Most Expensive Edible Cupcake, named "The Golden Phoenix", was unveiled.  The cupcake is valued at $1,010 and comes on a 24 carat gold cake stand.
What makes this cupcake so valuable, you might be wondering?  Ms. Shafeena Yusuff Ali, in her quest to create the world's most expensive cupcake, used these five expensive ingredients: Doves organic flour from the UK, Rachel's organic butter from the UK, Amedei Porcelena cocoa from Italy, Gold Ugandan vanilla beans, and an edible 23 carat gold sheet.