By
stayhomecupcake
on July 5th, 2012 . Filed under:
Cupcake Ideas
,
Decorating
,
Recipes
,
Wedding
.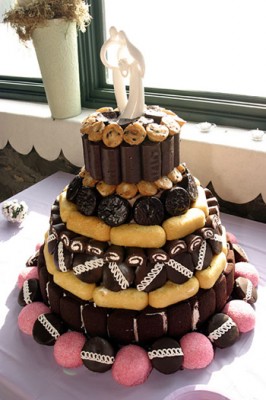 I have been a big Hostess fan ever since I was a little kid.  There is something special about opening up one of their plastic packages and enjoying that overly sugary sweetness.  Yum!  While surfing the Hostess website today I found the coolest wedding cake ever!  It took the groom only one hour to make this cake from Twinkies, Cupcakes, Ding Dongs, Ho Hos, Suzy Q's, Sno Balls and Mini Muffins. 
They also had several recipes that use the desserts to make new and different creations.  I so want to try this Black Forest Dessert that is made with a whole package of Hostess cupcakes!