By
CandidCupcake
on June 20th, 2012 . Filed under:
Cupcake Ideas
.
Last weekend I went to a lovely cupcake party in a friend's home.  The company was wonderful, the cupcakes were absolutely delicious, and we even had a surprise visit from President Obama (well, not quite, but keep reading if you're curious).
First, check out this spread.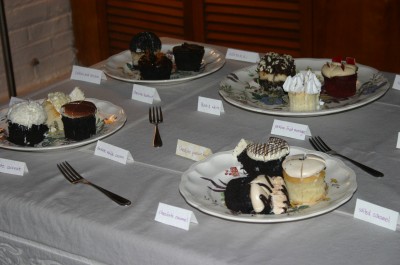 Each cupcake was divided into four parts, allowing everyone to sample a variety of flavors.  The cupcakes came from More Cupcakes, located in Chicago's Gold Coast neighborhood.  I sampled red velvet, passion fruit meringue, white velvet, and chocolate caramel.  Passion fruit meringue was definitely the most interesting (it had a tasty passion fruit frosting, but passion fruit is not really my thing), and chocolate caramel was my favorite.
Now I'm sure you're wondering about the President's surprise visit.  While I'm sure he and his family would have loved to sample cupcakes, they were actually attending a get-together in the home across the street.  A number of people from our party saw President Obama, the First Lady, and their daughters on an evening stroll to this neighbor's home.  We knew he was in Chicago for the weekend, but none of us knew he would be partying right across the street from us.
If you live in the Chicago area, I would highly recommend More Cupcakes.  They have a great selection, from sweet to savory (I didn't try the bacon cupcake, but I heard it was pretty good) to a variety of cocktail flavors.  They will definitely leave you wanting more!