By
CandidCupcake
on May 21st, 2012 . Filed under:
Cupcake Ideas
.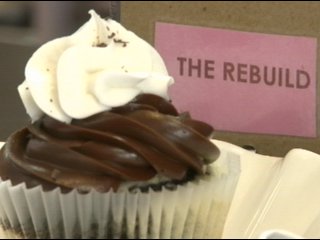 It's hard to believe that it has already been a year since the Joplin tornado.  Even so, there are still many people who don't have homes.  Smallcakes Cupcakery in Joplin is trying to do something about that.  They recently came out with the 'Rebuild Joplin' cupcake, and part of the profits from this cupcake will go to Rebuild Joplin, an organization dedicated to getting people back in their homes.
You might think that this cupcake is just an ordinary chocolate and vanilla cupcake, but think again.  The owner of this cupcakery explains that the chocolate on bottom and vanilla on top is meant to show that Joplin is coming out of the darkness and into the light.  Very cool cupcake and a wonderful cause!