By
CandidCupcake
on May 3rd, 2012 . Filed under:
Cupcake Ideas
.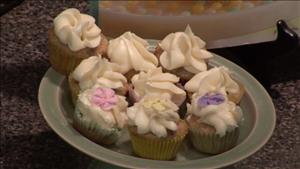 Welcome the quickly-approaching summer with these hummingbird cupcakes.  This recipe comes from Elinor Klivans, the author of Cupcakes!, a collection of 50 cupcake recipes.
If you're like me, I had no idea what hummingbird cake was until today.  It is a mixture of yellow cake with bananas, pecans and pineapples, topped generously with cream cheese frosting.
Check out some other hummingbird cupcake recipes in previous ATC posts (here and here) and see which one you'd like to try!