By
CandidCupcake
on April 19th, 2012 . Filed under:
Cupcake Ideas
.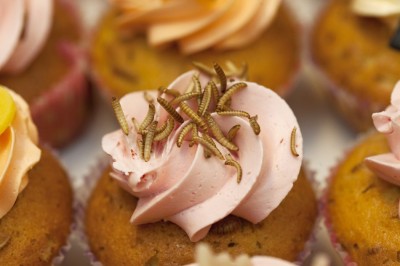 These are most definitely not your average cupcakes!  Want to know the story behind them?  I will tell you this first: they are not (yet) being sold at any bakeries…at least not any that I'm aware of.
These insect-topped desserts were actually being used as promotional material to advocate the idea of eating insects as part of getting a protein-rich diet to an increasing population.  The United Nations Food and Agriculture Organization claims that some insects have as much protein as meat or fish.  Not only that, but they are a good source of other nutrients, too.
After reading this article, I was glad to find that insects are not threatening to be the latest  and most hip cupcake topper.  That would gross me out!  It seems that cupcakes were a way to win people over to the idea that insects could be a solution to malnutrition, which does not surprise me, because cupcakes definitely have that kind of power!