By
stayhomecupcake
on March 27th, 2012 . Filed under:
Crafts
,
Cupcake Ideas
,
Kids
.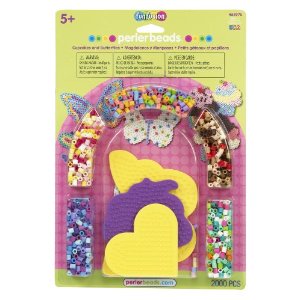 Today my daughter had money in her pocket to burn and really wanted to buy something for herself. She loves to do craft projects, so we headed to our local AC Moore and here is what she chose to buy.
Although it is a bit hard to see in this photo, this is Perler Beads Cupcake and Butterfly Fused Bead Kit. For those of you who don't know what Perler beads are, you simply fill the cupcake shaped pegboard with the beads, iron it and voila! You have a lovely cupcake to make into a magnet or pin.  This set was $7.99 at AC Moore and you can also find in on Amazon. 
 And here are the cupcakes my daughter and I made!  We had so much fun!