By
cupcakeSerenity
on March 7th, 2012 . Filed under:
Crafts
,
Kids
.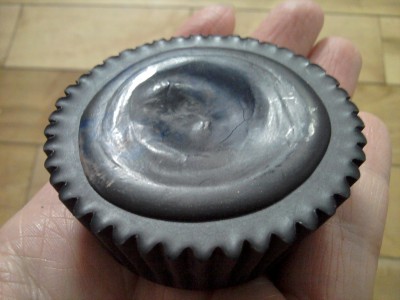 If you have children, then you have crayon scraps. You know, teeny tiny crayon stubs that no one colors with anymore. In our house, sometimes these get eaten by the dog, but if we prevent that from happening, these little crayon scraps pile up in the bottom of the crayon box.
So, what do you do with old crayons? Why, you make cupcakes of course! My kids will happily color with their new "crayon cupcakes," giving new life to old stubs.
Here's how:
Sort different colors, or color groups, into separate clean soup cans.
Heat a saucepan of water on the stove.
Gently drop soup cans into the water. Watch closely as the crayons in your can(s) melt.
In the meantime, line your muffin pan with cupcake wrappers.
Carefully pour your colored wax into the cupcake wrappers. You can create cupcakes of solid colors, or layer different colors into each cupcake.
Allow "cupcakes" to harden in pan. There's no need to bake anything!