By
HeatherLynn
on March 6th, 2012 . Filed under:
Events
.
"Being crazy isn't enough."
Happy (belated) Birthday, Dr. Seuss!
As many of you may and should know, Dr. Seuss' The Lorax came out in the movie theaters this past Friday. This was also Dr. Seuss' birthday as well!
"Unless someone like you cares a whole awful lot,
Nothing is going to get better. It's not." – The Lorax
In honor of him and  premiere of The Lorax, Liz from Hoosier Homemade made these amazing Lorax inspired cupcakes!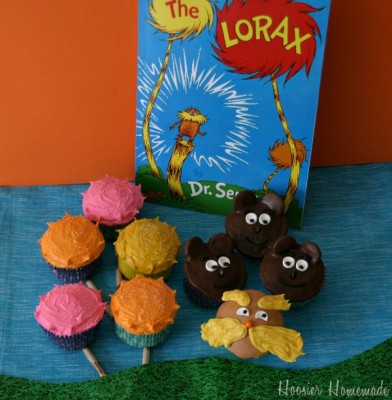 Make sure to check out Hoosier Homemade every Tuesday for Cupcake Tuesday. 
Who out there has seen The Lorax?!
"Fantasy is a necessary ingredient in living, it's a way of looking at life through the wrong end of a telescope."
All of the quotes featured in this blog post are by Dr. Seuss.