By
CandidCupcake
on February 20th, 2012 . Filed under:
Cupcake Ideas
.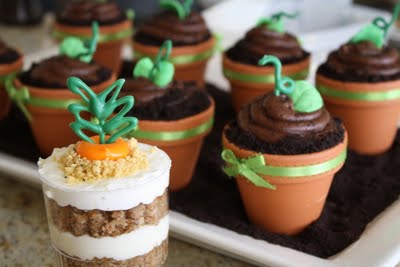 Now that March is just around the corner, I find myself daydreaming about sunshine, blue skies and days spent outdoors.  For those of you who are eagerly awaiting spring's arrival (or for those of you who live in a warmer climate than I do), here are some cupcakes to help usher in the spring season.
These "potted" cupcakes are topped with chocolate cream cheese frosting and green candy leaves, with oreo crumbs around the edges.
The carrot cupcake in the foreground is topped with crushed lemon poppyseed cookie and a smidge of orange cream cheese frosting.
These would make a lovely display at a spring luncheon or shower.  I'm not much of a gardener, but I think I could get into this!