By
CandidCupcake
on December 30th, 2011 . Filed under:
Cupcake Ideas
.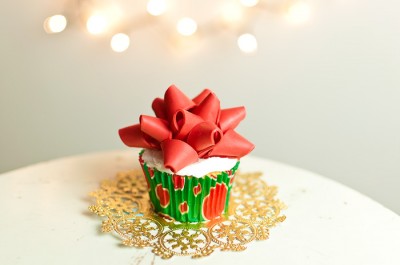 Yes, I realize that most of you have probably already unwrapped all those presents under the tree, but I couldn't resist sharing this cute idea, sent to us by one of our readers.
Maybe this could work for some of you who are gathering together with extended family to celebrate Christmas a little late (like on New Year's). Or, I suppose you could just ditch the Christmas theme and make it work for a birthday celebration.
Be sure to check out the video tutorial for help with making the bows.  It might take a little effort, but with just a little work you get a very impressive-looking cupcake!  Watching the video convinced me that even I could pull this off!