By
cupcakeSerenity
on December 10th, 2011 . Filed under:
Cupcake Ideas
.
I am in love. I have just discovered the most fabulous cupcakery! My Little Cupcake (with locations in Essex and Burlington) specializes in mini cupcakes and big flavor. I was so impressed, and can't wait to visit again. The cupcake menu included vegan and gluten-free options, as well as "Black Forest," "Salted Caramel," "Vanilla Heath Bar," "Chocolate Sundae," "Dirt," "Neapolitan," "Chocolate Mint," "Apple Pecan Streusel," "Red Velvet," "Blueberry Lemon," and "Chocolate Orange."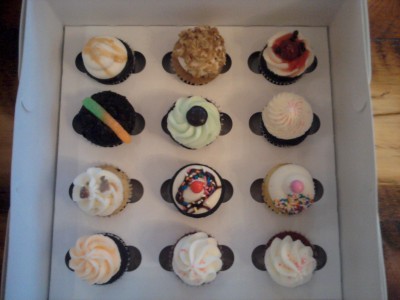 My son was quite happy with the "Dirt Cupcake," a chocolate cupcake topped with chocolate buttercream frosting, crushed oreos, and a gummy worm. And though the red velvet cupcake was as good as any I've ever had, with more frosting than cupcake, the first place ribbon has to go to the "Salted Caramel Cupcake," a surprisingly decadent chocolate cupcake topped with vanilla buttercream frosting, caramel drizzle, and Mediterranean sea salt. With a welcoming dining area and t-shirts to take home, My Little Cupcake offers cupcake diners with the ultimate hangout. You can also visit My Little Cupcake on Facebook and Twitter.