By
hungry runner
on December 3rd, 2011 . Filed under:
Bakeries
,
Reviews
.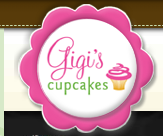 Have you tried Gigi's Cupcakes?  Gigi's cupcakes are a cupcake franchise and over the Halloween weekend I stopped by the Raleigh, North Carolina location.  Since it was Halloween weekend they had several cupcakes with Halloween decoration and were very crowded.  Sadly the pumpkin cupcake was sold out and most of the cupcakes were selling quickly.  I decided on the red velvet cupcake and the four year old I was with chose the scary boo Halloween decorated cupcake.  I have to admit that I almost didn't get a cupcake and had a hard time finding a cupcake to choose. The cupcakes did not look appealing and after trying them I felt like they were lacking in flavor.
The cupcakes were topped with a huge pile of frosting.  I have realized from these cupcakes that there is an appropriate cupcake to frosting ratio that you should aim for.  In my opinion, if your cupcakes have more frosting than there is cake, that is too much frosting.  These cupcakes really had a mountain of frosting on top and we were shocked to find more frosting inside!  Also most cupcake shops have a design that they seem to trademark like the magnolia swirl, or the dollop that a lot of shops will use.  At Gigi's there was no consistency with the frosting design, which affects the visual quality of the cupcakes.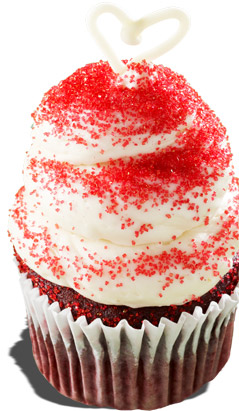 The atmosphere inside also surprised us.  The shop was pretty dirty and messy, possibly because they had been so busy that Saturday afternoon.  And the music playing seemed completely inappropriate for a cupcake shop.  When I think cupcake shop I think of a family friendly environment and I tend to think of myself as someone who is willing to listen to most genres of music but when a cupcake shop is playing R Kelly and you are there with a four year old, you want to cover their ears.
I can't honestly think of any other time I have tried a cupcake that I disliked as much as these, which was why I was, surprised that this Gigi's location was as busy and crowded as it was.  In Raleigh there is another cupcake shop, The Cupcake Shoppe which while they are not my favorite cupcakes of all time I would choose them over Gigi's any day.  I thought based off the designs and atmosphere the cupcakes would be cheaper but they were still averagely priced at $3.00 per cupcake.  These cupcake shops are po3pping up all over the country with locations in 18 states and more on the way.  I think I will be sticking to the small, locally owned cupcake shop.
After my visit I decided to reach out to reach out to the owner of the Raleigh, NC Gigi's location to see if they wanted to comment on my complaints regarding my visit.  The owner wanted to meet with me but because of schedule issues we arranged a phone date and the owner spend over 30 minutes addressing my issues mentioned above.  I was impressed with his determination to improve my opinion of Gigi's.  I had initially thought because it was a chain corporation no one would care about my experience but instead the owner seemed to genuinely care about my satisfaction.  I think this says a lot about him and about Gigi's Cupcakes.  Below are some of his comments from our conversation regarding specific issues I had when I visited:
The music issue:  normally they try to keep it on a top 40 music channels and that the station that was playing when I was in the store was something that should not have been on.  The owner said that Gigi, who is an actual person, does not want that type of music playing in her stores.
The messy store issue: the owner explained that the customers come in waves, which makes it difficult to staff appropriately.  Normally they do try to keep the place clean, and wipe down the tables during lulls but some days just catch them off guard.  Regarding the selection the day I was in there, the owner tries to make enough cupcakes to sell without having too many left over.  There are 12 regular items plus specialty cupcakes.  On Halloween they had lots of variety and were trying to focus on the Halloween special which included a Halloween party pack.
The frosting issue:  there is actually a signature swirl and all red velvet cupcakes should look consistent (although my issue was that from one flavor to the next the decoration was not consistent).  On the day I visited the shop there should have been six cupcakes that had the same Gigi's swirl.  (I honestly did not notice this).   On their radio adds they mention taking the cupcake and tearing off the bottom half of the cupcake and putting it on top of the frosting then mashing it down with a fort to get the right amount of frosting with each bite.  This is something most regulars know this but having never been in before and not heard the ads I did not know this.